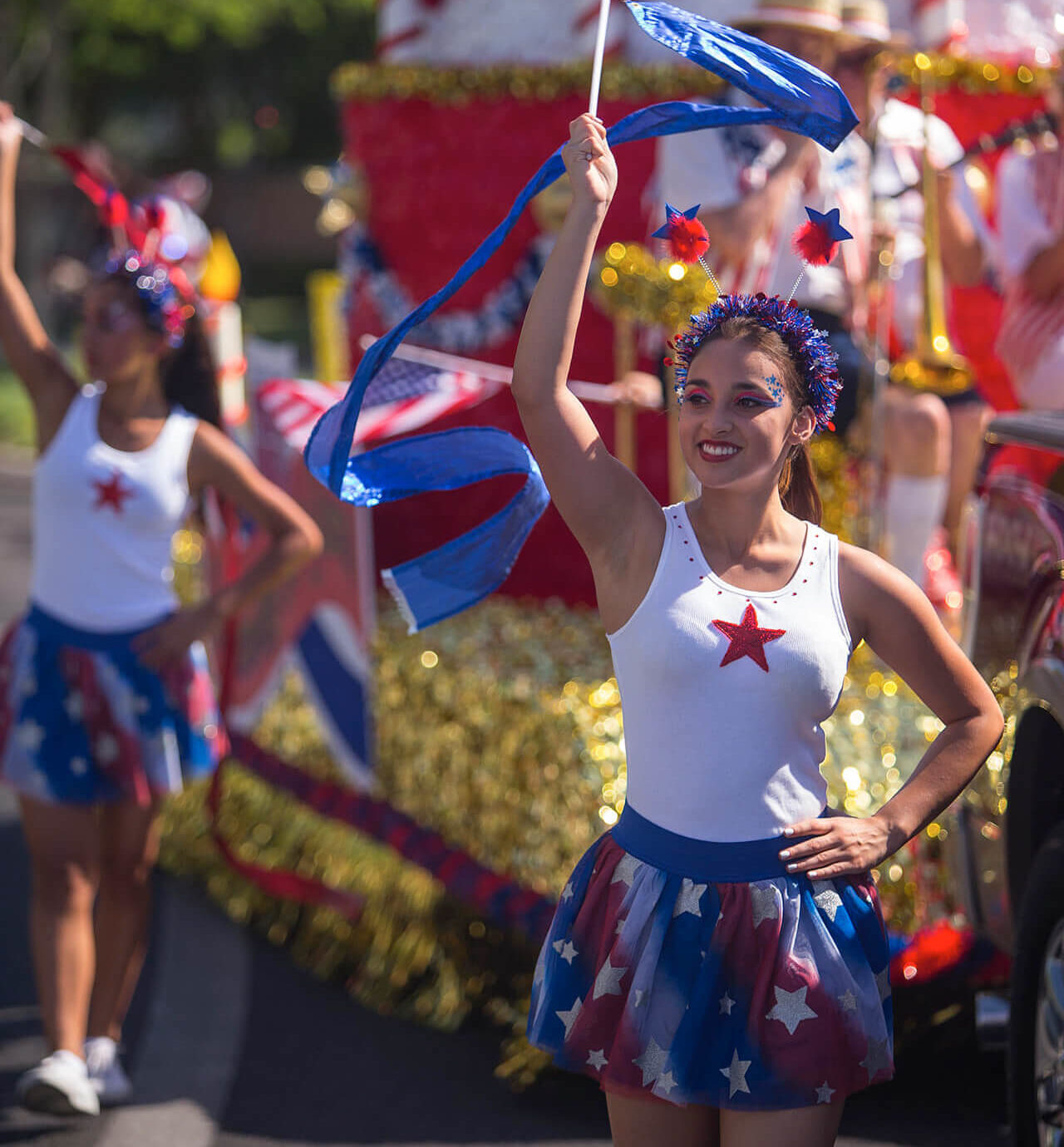 Back in Full Swing!
Summerlin's grandest tradition returns this Independence Day in star-spangled style. Recognized for its unique and dazzling displays, the Summerlin Council Patriotic Parade is set to continue its tradition of huge family fun and spirited, colorful patriotism this Fourth of July. Make plans to be there!
Monday, July 4
Escort Parade — 8:30 a.m.
Patriotic Parade — 9 a.m.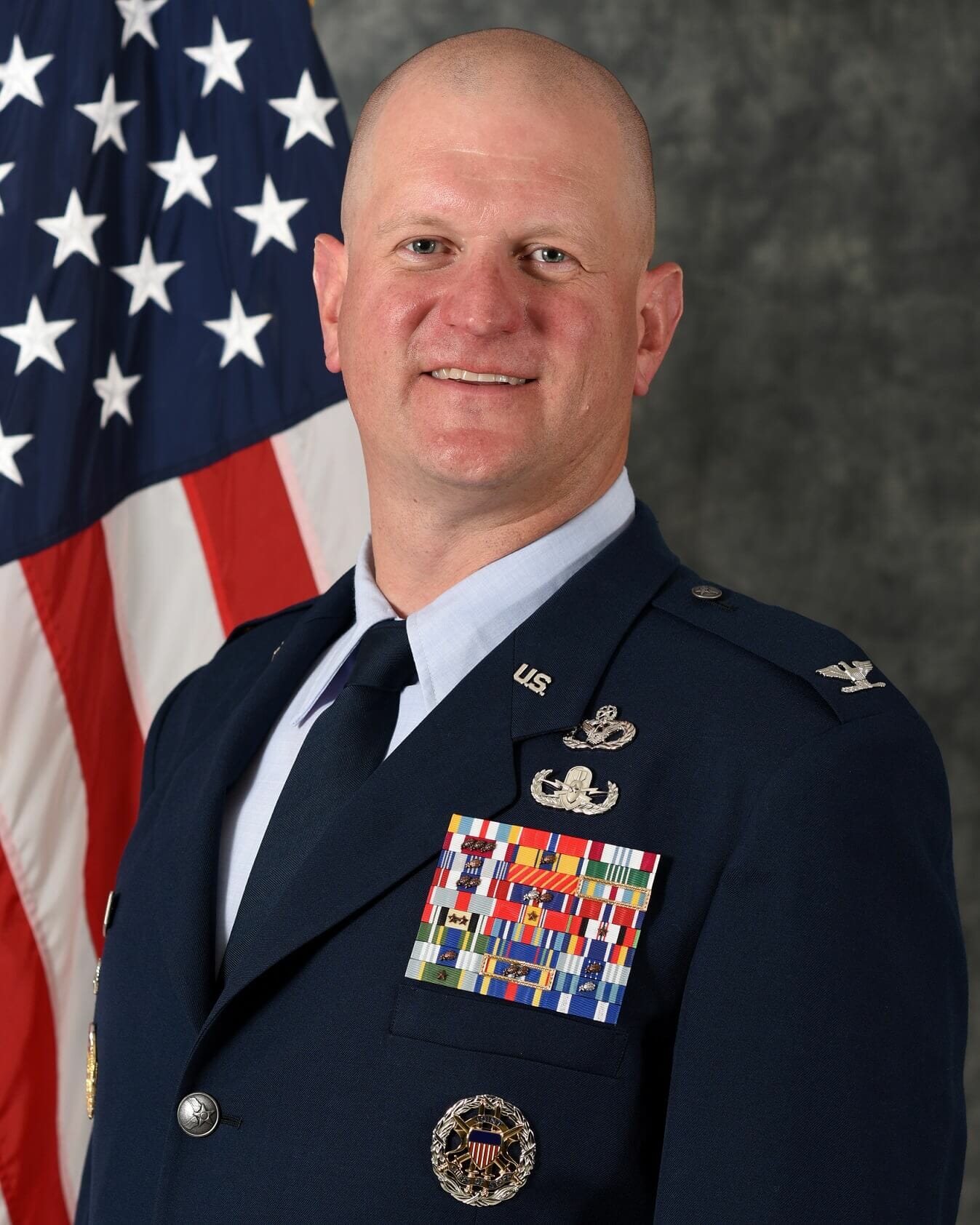 Colonel Joshua DeMotts
Serving as the 2022 Summerlin Council Patriotic Parade Grand Marshal is Colonel Joshua DeMotts, Commander of the 99th Air Base Wing, Nellis Air Force Base, Nevada. In this position, Colonel DeMotts supports the installation command authority for Nellis Air Force Base and the 2.9 million-acre Nevada Test and Training Range. He is responsible for all installation support, providing communications, contracting, engineering, environmental, law enforcement, logistics, medical, security, services, supply, transportation, and mission support for more than 12,000 assigned service members and 313,000 family members, retirees, and veterans.
Colonel DeMotts is a graduate of the U.S. Air Force Academy with a Bachelor of Science degree in Environmental Engineering. He has commanded multiple times at the flight, squadron, and group levels and has deployed several times in support of Operations Iraqi and Enduring Freedom.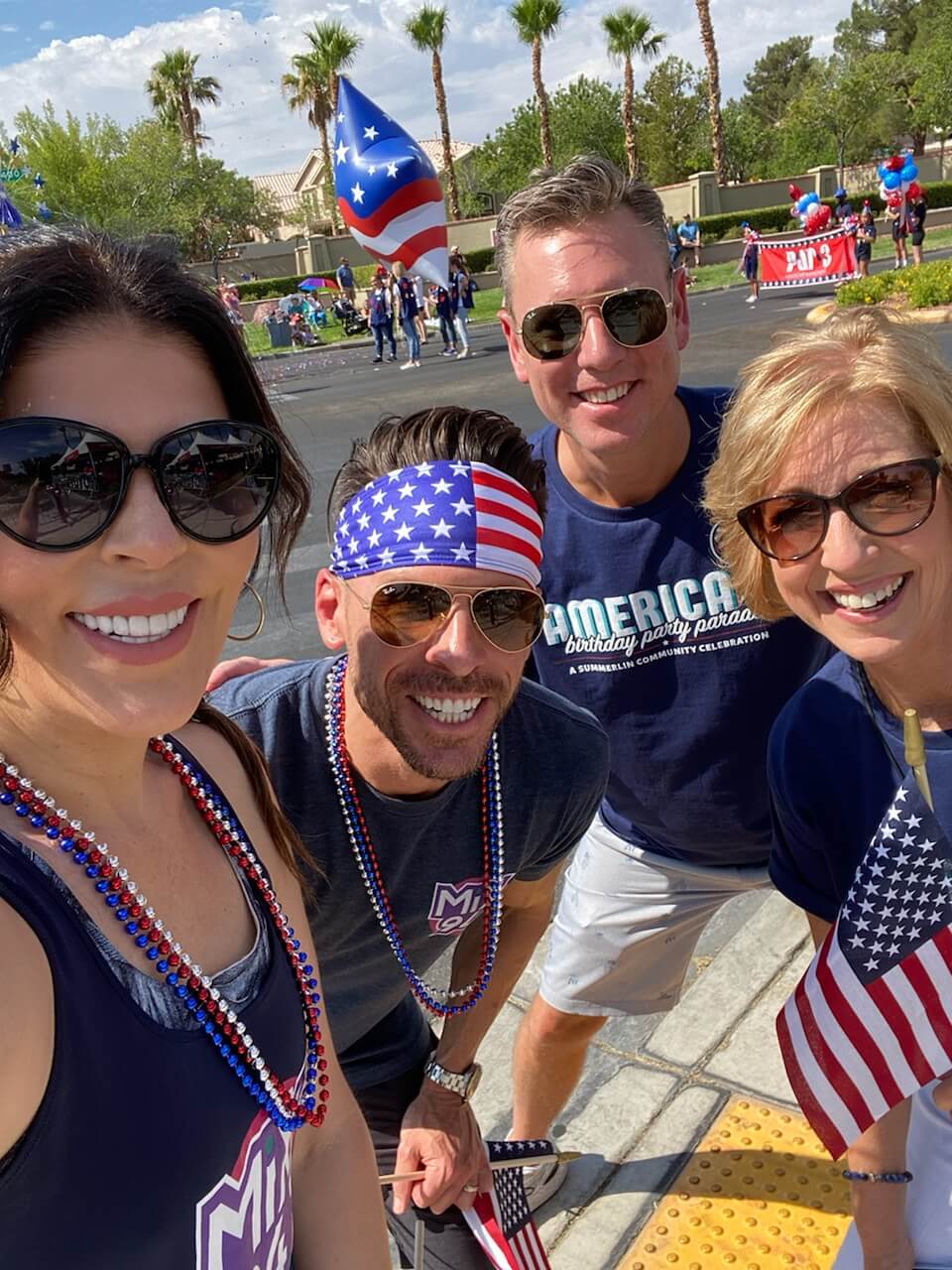 When it comes to hosts, the Summerlin Council Patriotic Parade truly has the best. Each of these amazing individuals has dedicated their time and talents to make our Independence Day tradition sincere, festive, and most of all, fun!
Join us in celebrating this special foursome and extended members of our parade family.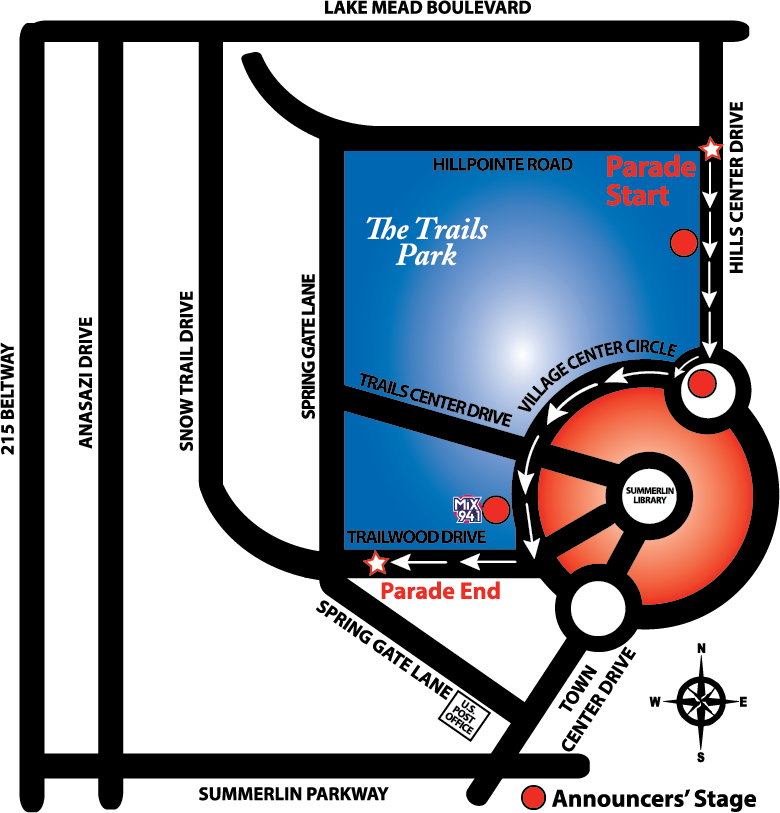 The parade steps off at Hillpointe Road and Hills Center Drive, travels south on Hills Center Drive to Village Center Circle, then turns west onto Trailwood Drive ending at the Trails Village Shopping Center.
Road closures on parade day begin before 3 a.m. and continue until approximately noon. The community is encouraged to plan accordingly and minimize vehicular travel.
Parade Lineup
Escort Parade – 8:30 a.m.
Palo Verde High School Air Force JROTC Color Guard
Rotary Club of Las Vegas Summerlin presents "Patriotic Peddlers"
Las Vegas Mayor Carolyn Goodman
City of Las Vegas/Las Vegas Fire & Rescue
Summerlin Seals Swim Team
Southern Nevada Living History Association
Philippine American Charity Foundation
The U.S. American Pageants—Miss Nevada
Model A Ford Club
Las Vegas Cadillac Club
King Solomon Lodge
Fleet Reserve Association Branch 90
U.S.O. Nevada
Forgotten Not Gone
American Legion's "Spirit of Freedom" NV Post 76
Marine Corps League – Greater Nevada Detachment #186
Patriotic Parade – 9 a.m.
Parade Opening – "Star Spangled Day"
Summerlin presents "Summerlin Sam on Parade"
Par 3 Landscape & Maintenance presents "An All-Star Salute to the Military"
Centralized Security Services presents "Grand Old Flag"
The Summerlin Council and ARTSWORK Conservatory of Contemporary West Dance Theatre present "Dancing in the Street"
Howard Hughes Corporation presents "Las Vegas Aviators"
MK House Consulting, Inc. presents "Palo Verde Panther Pride Marching Band"
Las Vegas Raiders
Brown & Brown Insurance presents "Red, White and Blue's Clues"
Las Vegas Aces
ExerPlay presents "Palo Verde Cross Country – American Flag"
City National Bank presents "Vegas Golden Knights"
Pure Plumbing & Air presents "On the Road with Mario"
Nevada Diabetes Association
Palmer Electric presents "Star Wars: The Fourth Awakens"
501st Legion Star Wars Costuming Club
Daughters of Utah Pioneers
Park Pro Tek presents "Danza Del Carrizo"
Thai Heritage Group of Las Vegas
Tri Pointe Homes presents "America Standing Tall"
Vegas Golden Gals
Precision Concrete Cutting presents "Lightyear…and Beyond!"
LandCare presents "In the Swing of Things"
United States Submarine Veterans Las Vegas Base 51
Southern Nevada Military Vehicle Association
Nevada Latino Arts and Culture Association
One Hour Air Conditioning and Heating presents "Our American Eagle"
Downtown Summerlin presents "Avengers Dance Party"
Chrysalis presents "Happy Birthday, America!"
Southwest Medical presents "Fun Filled Fourth"
Park Pro Playgrounds presents "Baby Shark Beach Party"
BrightView presents "A Very Vegas Fourth of July"
Seabreeze Management Company presents "Pikachu Adventures"
Mix 94.1 presents "The Magic of Encanto"
Miracle Flights presents "Peter Pan's Neverland"
Santa Kris Kringle
Summerlin Hospital presents "Frozen Fourth"
Red Rock Fertility presents "Lady Liberty"
Goodale Family Wurlitzer Band Organ
Las Vegas Avengers
Current Event Rentals presents "America's Top Gun"
U.S. Forest Service – Smokey Bear
LKG Law Firm presents "Footloose on the Fourth"
The Potter's House Christian Fellowship Church
City of Las Vegas presents "Princesses on Parade"
Celebrate Kids presents "Up, Up and Away with Paw Patrol"
Station Casinos presents "America Sings!"
The Summerlin Council presents "Hats Off to America"
Parade End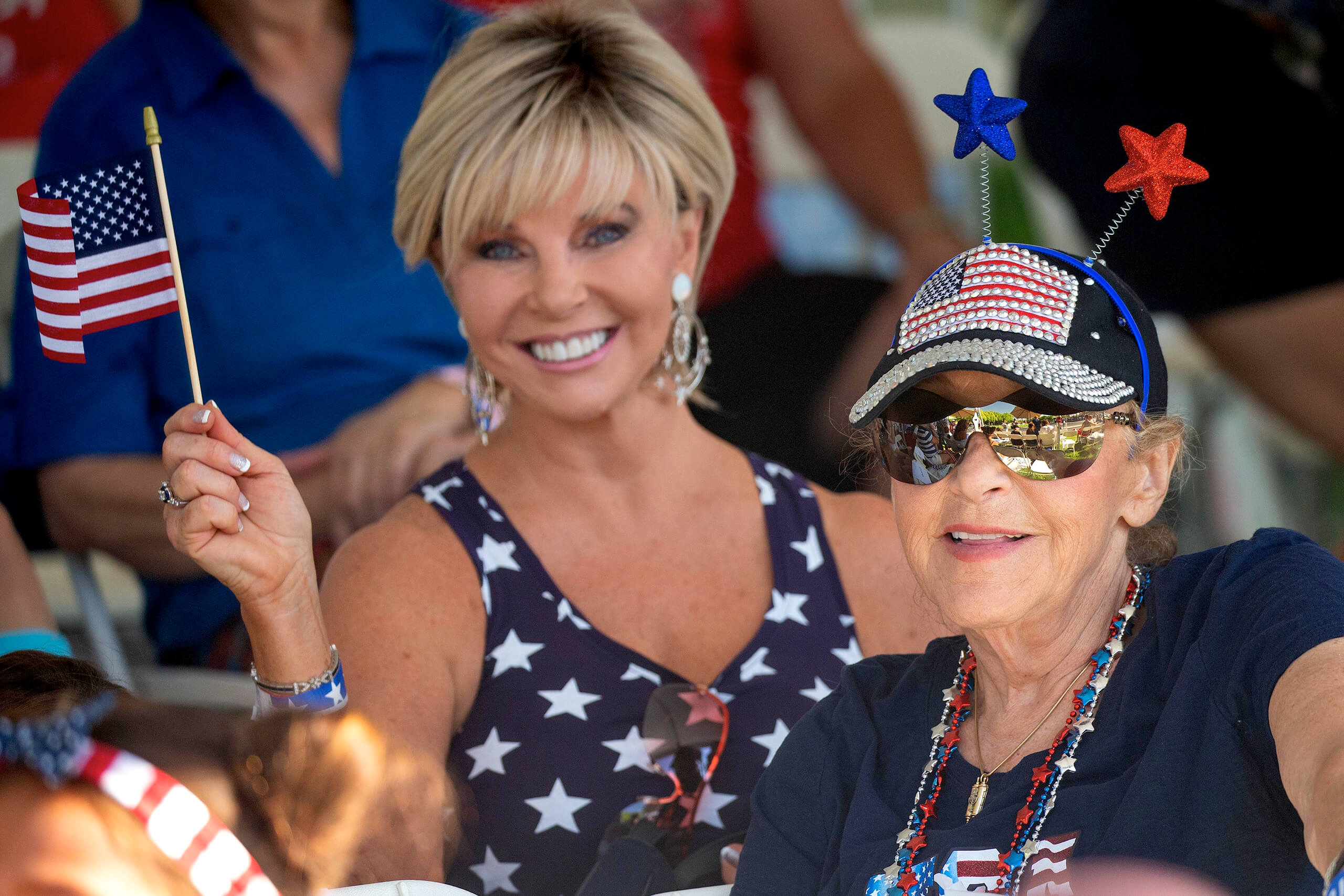 Tips for a Great Day
To help ensure your best parade experience possible, take note of these helpful hints:
Three announcers' tents are located along the route. These areas feature additional entertainment elements and amplified sound for spectators' enjoyment.
Parking is limited on the day of the parade. Carpool with friends, bike, or even walk to the parade.
The parade route is lined with grass so bring a chair, open an umbrella, or lay a blanket to enjoy the parade comfortably. (Be sure to familiarize yourself with the Parade Event Marking and Safety Guidelines prior to parade day. Attendees may set up their viewing area starting July 3 at 7 a.m. Items placed prior to this time will be removed and donated.)
Don't forget it's hot out there! To beat the heat, drink plenty of water (one cup every 15-20 minutes) even if you don't feel thirsty, wear protective clothing and slather on sunscreen.
Be responsible with your children and keep them safe during the parade. Do not allow kids—or kids at heart—to enter the parade route and approach entries during the event.
Wear red, white, and blue to celebrate America and display your patriotism. Consider bringing a few decorations to make your viewing location extra-spirited!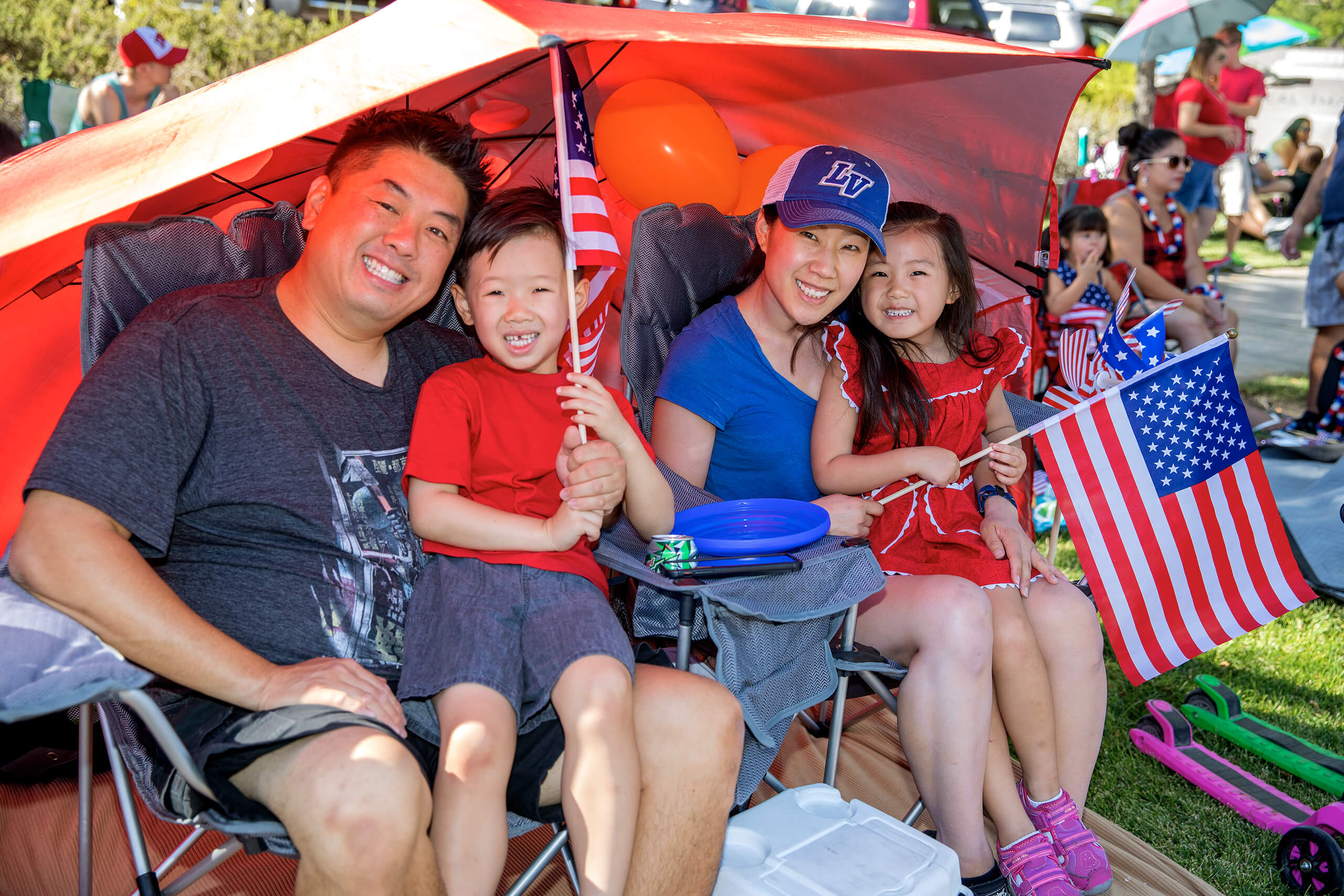 Parade Event Marking and Safety Guidelines
The Summerlin Council is committed to providing a safe and enjoyable environment for Patriotic Parade attendees. Please review the following parade event marking and safety guidelines before parade day:
Parade attendees may set up their viewing area along the parade route beginning at 7 a.m. the day preceding the event. Personal items placed before this time will be removed and donated.
Use of duct tape, chalk, and paint to mark a parade viewing area along the route is prohibited.
Only pop-up canopy or shade-type tents no larger than 10' x 10' are permitted along the parade route. No fully enclosed tents with side panels are allowed.
Only portable outdoor recreation furniture is permitted along the parade route. No household furniture or ladders are allowed.
Any items blocking the right of way along sidewalks, crosswalks, or roadways will be removed.
Any car parked along the parade route will be towed.
Please be courteous and remove all trash, debris, and personal items when leaving the parade.
The Summerlin Council and Summerlin North Community Association assume no responsibility for unattended personal items along the parade route.