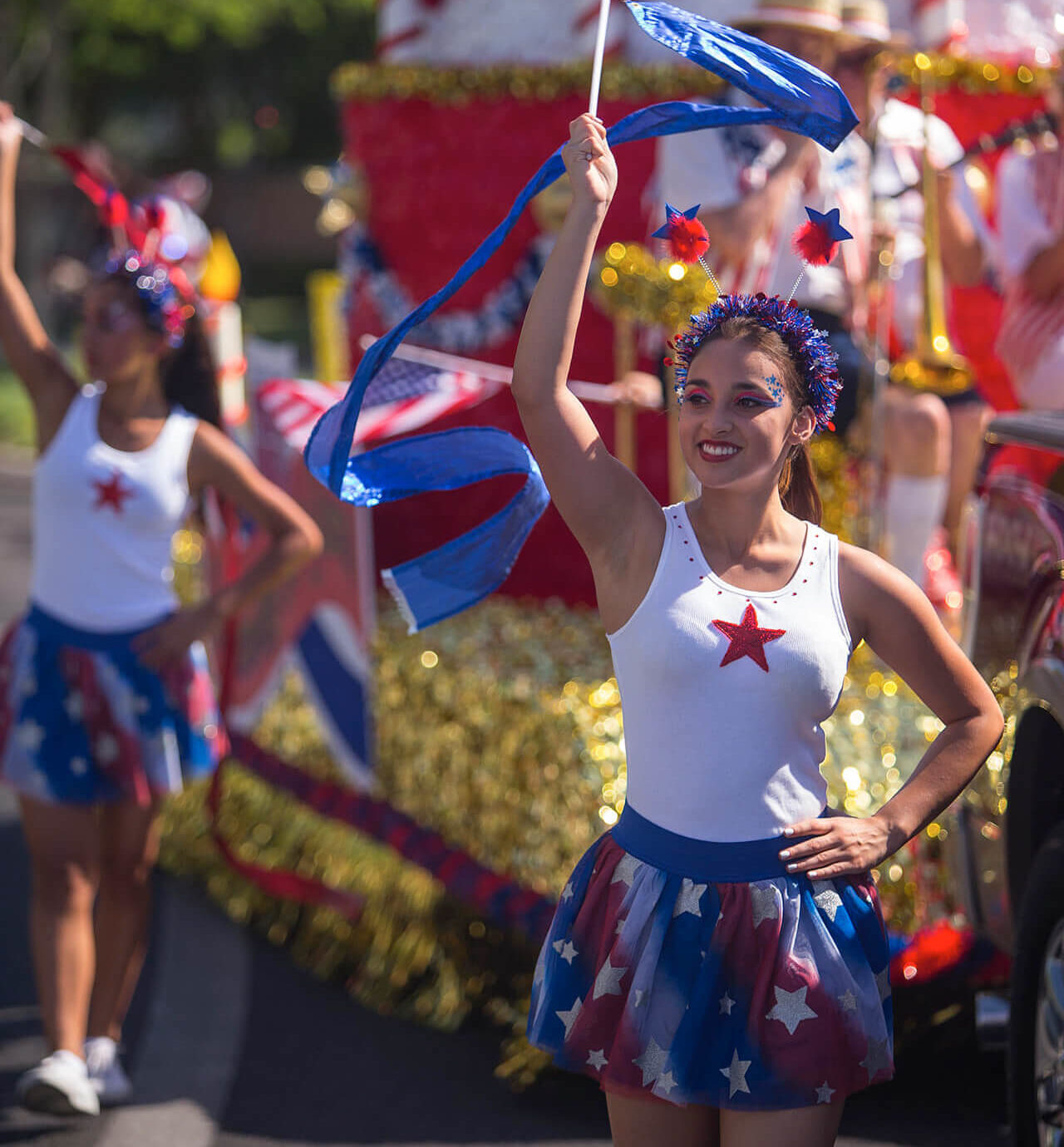 Strike Up the Band!
Summerlin's grandest tradition returns this Independence Day in star-spangled style. Recognized for its unique and dazzling displays, the Summerlin Council Patriotic Parade is set to continue its tradition of huge family fun and spirited, colorful patriotism this Fourth of July. Make plans to be there!
Tuesday, July 4th, 2023
Escort Parade — 8:30 a.m.
Patriotic Parade — 9 a.m.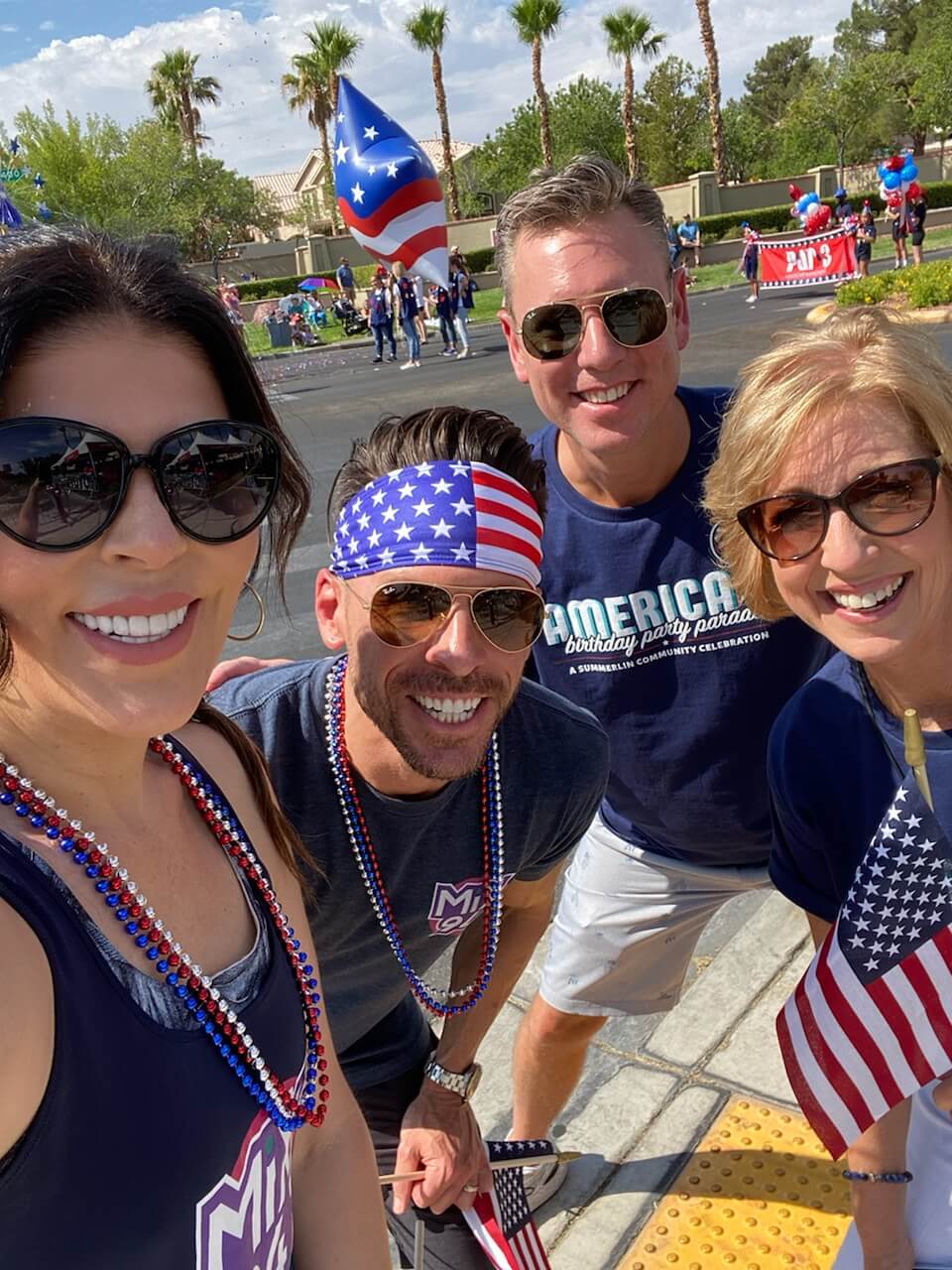 When it comes to hosts, the Summerlin Council Patriotic Parade truly has the best. Each of these amazing individuals has dedicated their time and talents to make our Independence Day tradition sincere, festive, and most of all, fun!
Join us in celebrating this special foursome and extended members of our parade family.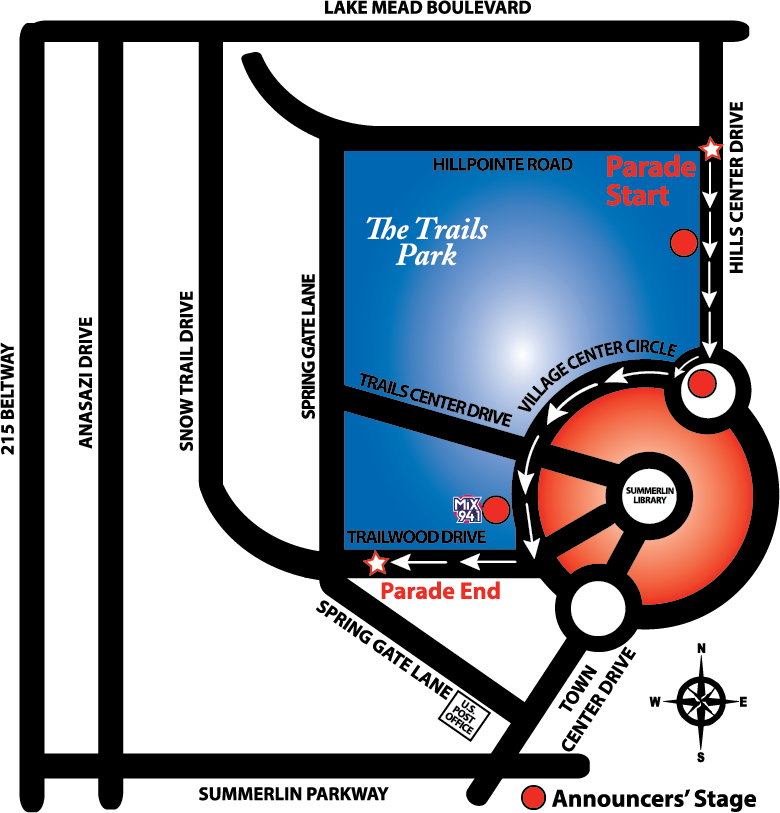 The parade steps off at Hillpointe Road and Hills Center Drive, travels south on Hills Center Drive to Village Center Circle, then turns west onto Trailwood Drive ending at the Trails Village Shopping Center.
Road closures on parade day begin before 3 a.m. and continue until approximately noon. The community is encouraged to plan accordingly and minimize vehicular travel.
Parade Tips and Guidelines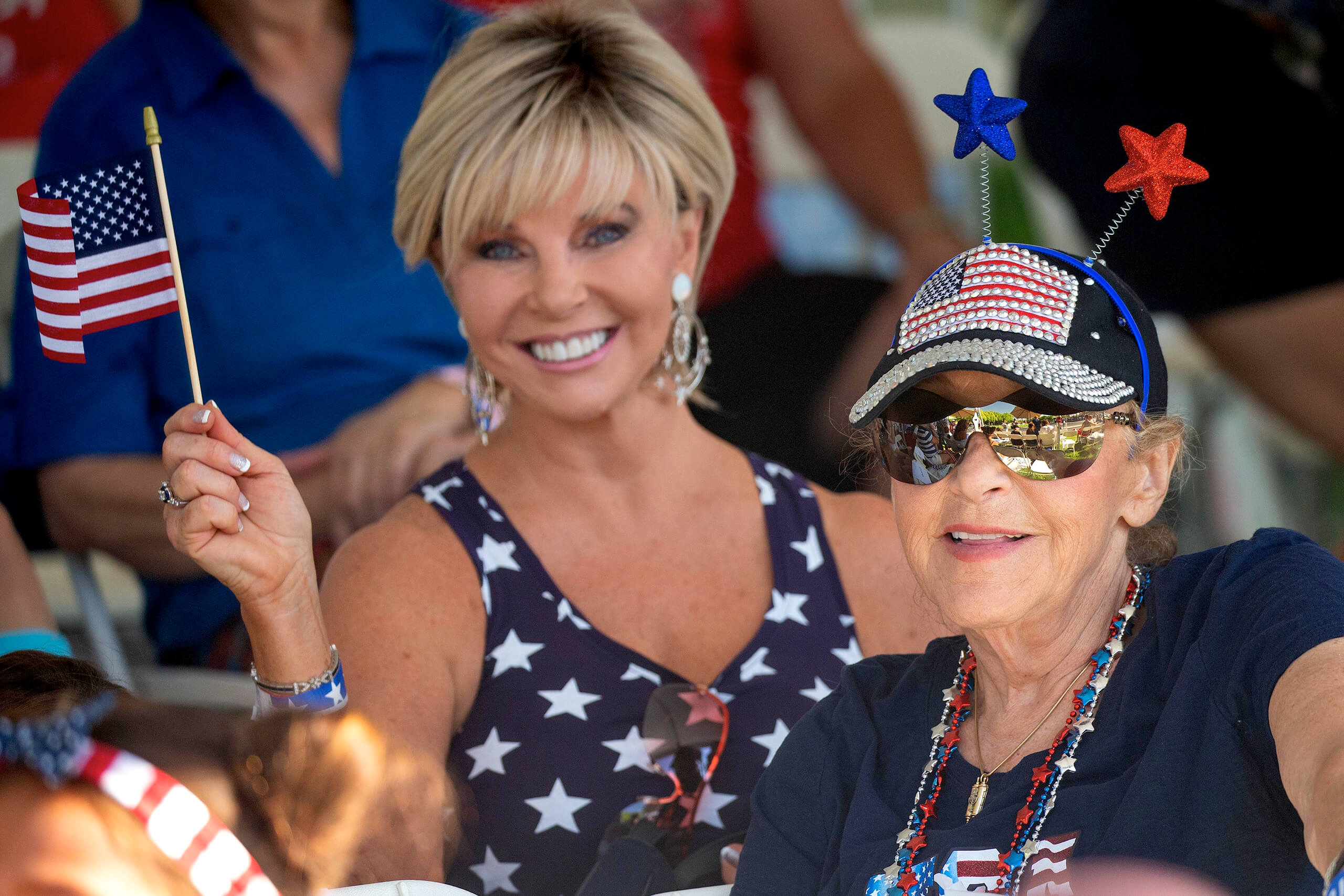 Tips for a Great Day
To help ensure your best parade experience possible, take note of these helpful hints:
Three announcers' tents are located along the route. These areas feature additional entertainment elements and amplified sound for spectators' enjoyment.
Parking is limited on the day of the parade. Carpool with friends, bike, or even walk to the parade.
The parade route is lined with grass so bring a chair, open an umbrella, or lay a blanket to enjoy the parade comfortably. (Be sure to familiarize yourself with the Parade Event Marking and Safety Guidelines prior to parade day. Attendees may set up their viewing area starting July 3 at 7 a.m. Items placed prior to this time will be removed and donated.)
Don't forget it's hot out there! To beat the heat, drink plenty of water (one cup every 15-20 minutes) even if you don't feel thirsty, wear protective clothing and slather on sunscreen.
Be responsible with your children and keep them safe during the parade. Do not allow kids—or kids at heart—to enter the parade route and approach entries during the event.
Wear red, white, and blue to celebrate America and display your patriotism. Consider bringing a few decorations to make your viewing location extra-spirited!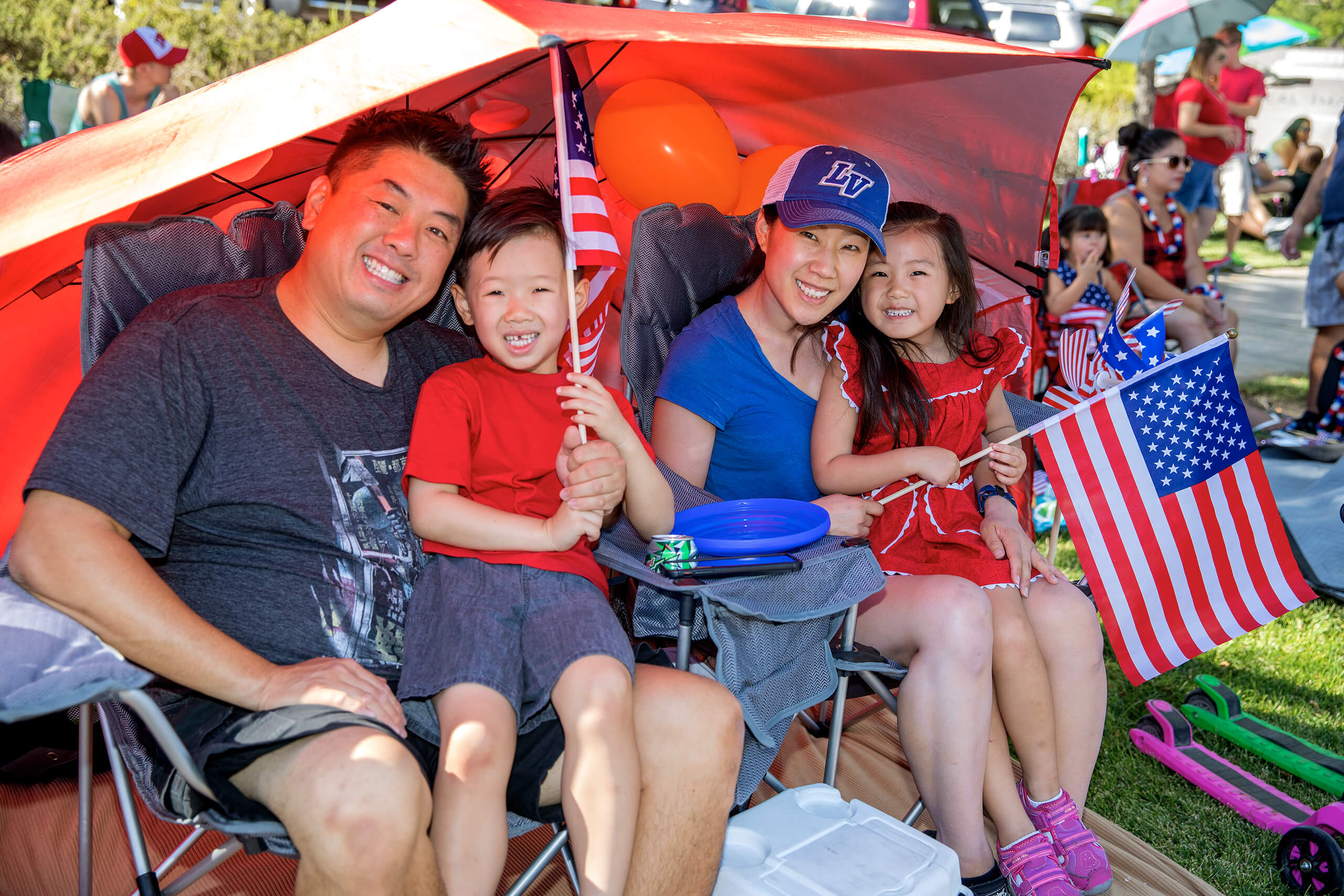 Parade Event Marking and Safety Guidelines
The Summerlin Council is committed to providing a safe and enjoyable environment for Patriotic Parade attendees. Please review the following parade event marking and safety guidelines before parade day:
Parade attendees may set up their viewing area along the parade route beginning at 7 a.m. the day preceding the event. Personal items placed before this time will be removed and donated.
Use of duct tape, chalk, and paint to mark a parade viewing area along the route is prohibited.
Only pop-up canopy or shade-type tents no larger than 10' x 10' are permitted along the parade route. No fully enclosed tents with side panels are allowed.
Only portable outdoor recreation furniture is permitted along the parade route. No household furniture or ladders are allowed.
Any items blocking the right of way along sidewalks, crosswalks, or roadways will be removed.
Any car parked along the parade route will be towed.
Please be courteous and remove all trash, debris, and personal items when leaving the parade.
The Summerlin Council and Summerlin North Community Association assume no responsibility for unattended personal items along the parade route.